Update 13: The Breaking of Isengard - Now Available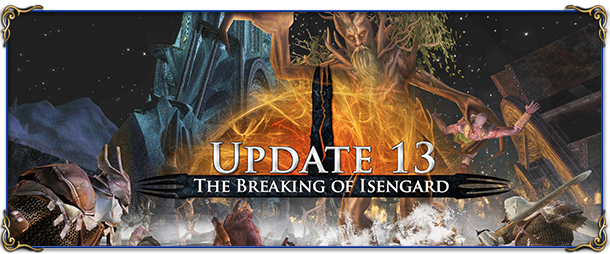 Now Available
The epic story continues as you are asked to visit Isengard and Fangorn Forest. While the battles were fought in Rohan, other struggles persisted in the rest of the world. Nature has emerged to reclaim the land ravaged by Isengard. You must play your part in helping to restore order, heal the land, and further vanquish evil in the world of Middle-earth.

Adventure after the fall of Orthanc
Flooded Isengard
The Ents have sacked Isengard! But what has become of Saruman? Lend yourself to the quest to uncover what became of the White Wizard, rejoin old friends, and demystify what has transpired here.
Fangorn Forest
The Forest's rage churns deep within. Quickbeam asks for your help in restoring order and peace in the land.
The Breaking of Isengard continues the epic story started in Helm's Deep. Purchase Helm's Deep to experience this new content update! Upgrade your account today

Mail System Update:
The LOTRO Mail system got an update!
* Attach up to 10 items in one message.
* VIPs can check their mail in the field, for free!
* Send LOTRO Store Items to a friend (with a Mithril coin Fee)

Inventory System update
With this new slot system you are able to customize your inventory! Change the size and number of slots in each bag space, upgrade your inventory with 15 new slots, and resize the UI to customize your game play!

Also available with Update 13:
Lalia's Market
New items can be found in Lalia's market. Visit to see what's been added!
New for Mithril Coins
* LOTRO Store Attachments in Mail
* Monster Play Skill Vendors

New in the LOTRO Store
Learn more about the new store offers by clicking here.