The LOTRO Beacon: Issue 40
Community Spotlights
The Remediators are playing holiday music at Frostbluff Click here for event information.
Join The Minstrel Guild of Bree for a Champagne Bash to celebrate the year's end! Click here to get all the info.
Pycella adds more recipes, games and writings to their Hobbit-ey Yule Calendar. Don't miss out! Click here for the latest. 
Celebrate Yule Fest with Agent Brigman, Click here to watch her stream!
Bludborn continues his 25 days of XPacs, Click here to view the latest stream! 
with the subject line "COMMUNITY SPOTLIGHT"
Kin Hall
Wisdom of the Valar is a rank 10 kinship on Evernight. They are a 10 year old guild with many experienced players who are willing to assist new players! To learn more about this premier social guild Click here. 
Email contact@standingstonegames.com with the subject line "KIN HALL" to get your Kin featured

Warm up some hot cocoa and tell us the title of your most favorite Yuletide story!
Fansite News
Click here to check out the newest episode of LOTRO Players News Episode 233!
GameolioDan fights goblins and then buys a house! Click here to watch. 
If you missed Polnolunie at Winterfest, Click here to see their performance! 
Click here to watch StinePlays clear The Abyss of Mordath!
McVeganPants does some quests! Click here to watch their stream.
Let's Talk Shop!
The Abyss of Mordath is now available! Click here for the Update 21.3.1 Release Notes
The Yuletide Festival is here! Click here for our guide to the event.
Cordovan has Festival fun and gets pelted with snowballs on Landroval! Click here for the latest +Cord of the Rings.
Screenshot of the Week!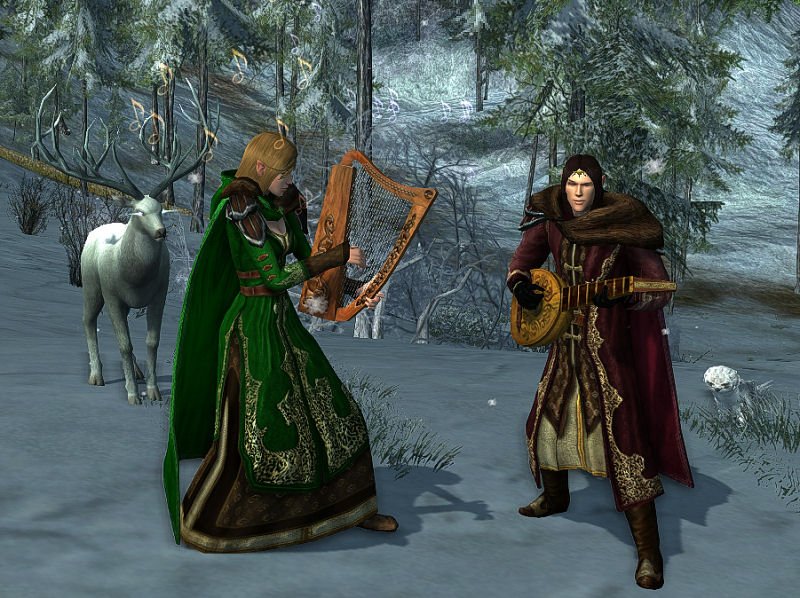 Glorawenn and Andranel play some music after completing some Yule Festival quests. Click here to follow Crown Of Antlers on twitter for more screen shots like this!
In the News!
LOTRO Bonus Days bring you the Yuletide Festival! The event runs now through January 7th!
The Yule Savings Event continues now through December 28th with:

35% off March of the King Quest Pack 

50% off Deed Boosts

50% Warsteed Colors 

75% off Ingredient Crates 
The Weekly Coupon gets you free Combat Run Speed Boost x5 - x1 with the coupon code RUNAWAY, now through the 28th!
Just a friendly reminder, we will not be publishing the Beacon or streaming on Twitch next week as we break for the holidays. We hope you enjoy the Yuletide Festival!